New Book! 
Therapy without a Therapist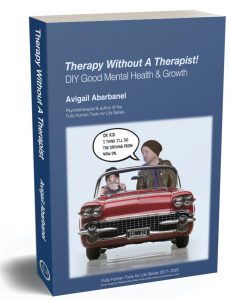 My new book, Therapy Without A Therapist: A DIY Guide to Good Mental Health & Growth is now out. It is available on Amazon Kindle and in paperback. All my clients will receive a free copy as a reference for the work that we are doing.
This book is a write up of everything I do in therapy with my clients. I think it can benefit many people who can work with it without needing to see a therapist.
The links provided here are to the Amazon UK site but the book is available on Amazon worldwide. I hope you enjoy the  book and find it useful and as always, I welcome your feedback!
Feel free to download the book's Introduction
---

"New! 'Fully Human Psychotherapy Tools for Life Series'
The first four booklets in the 'Fully Human Psychotherapy Tools For Life' series are now available on Amazon Kindle and in paperback on amazon worldwide.
It can be difficult to find the energy or brain space to commit to reading a full sized book when people are not at their best. That's why all the booklets in this series are small, affordable, and accessible.
Booklet 1 – Grief and Adjustment to Change
Booklet 2 – Don't Put Up With Anxiety: Cure it!
Booklet 3 – Trauma & Its Impact: What you need to know
Booklet 4 – Relationships: Why are they so difficult & what can we do about it?