"New! 'Fully Human Psychotherapy Tools for Life Series'
The first three booklets in the new 'Fully Human Psychotherapy Tools For Life' series are now available on Amazon Kindle and in paperback.
It can be difficult to find the energy or brain space to commit to reading a full sized book when people are not at their best. That's why all the booklets in this series are small, affordable, and accessible.
Booklet 1 – Grief and Adjustment to Change: A no nonsense approach
Booklet 2 – Don't Put Up With Anxiety: Cure it!
Booklet 3 – Trauma & Its Impact: What you need to know
*Please note that the waiting period for a first appointment with Avigail is now between 3 and 5 weeks. If it is urgent for you to see someone, please do not wait for me. You can try the BACP Find A Therapist facility, or the COSCA Directory to locate another therapist in the area.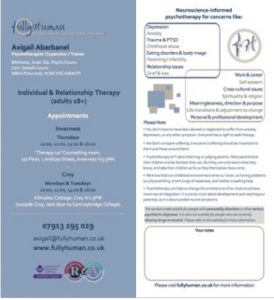 Download the new Fully Human flyer
 
Please note: 
• Avigail does not offer therapy by phone, email, Skype, or any other remote method, to clients she has not already worked with in person.
• Avigail does not do EAP work.
Notice for Emergencies!
Fully Human is a private psychotherapy practice. It is not an emergency service and does not provide around the clock urgent or crisis help. If you are in trouble or contemplating taking your own life, there are services that can help you 24/7. Here are a few possibilities:
• The Samaritans — 08457 90 90 90 –You can talk to the Samaritans any time you like, in your own way, and off the record – about whatever's getting to you. You don't have to be suicidal.
• Trauma Counselling Line Scotland — 08088 020406 – A national telephone counselling service for adult survivors of childhood abuse.
• Combat Stress – 0800 138 1619, text 07537 404 719 or email combat.stress@rethink.org — Combat Stress is a 24-Hour Helpline for the military community and their families which can advise on various issues from mental health to practical support.
• Scottish Women's Aid — Scottish Women's Aid is the lead organisation in Scotland working towards the prevention of domestic abuse. http://www.scottishwomensaid.org.uk/advice-information-lp/women
• Rape & Sexual Abuse Service Highland (RASASH) — A new charitable service based in Inverness. RASASH provides accessible, appropriate and high quality emotional and practical support, information and advocacy for survivors, their non-abusing partners, family and friends. http://www.rasash.org.uk
• Rape Crisis Scotland (6pm to midnight daily) Ph: 08088 010302   http://www.rapecrisisstoland.org.uk
• Young people in the Scottish Highlands — Child and Adolescent Mental Health Service (CAMHS), based on the Raigmore Hospital Site. Ph: 01463 705597 
• Young people anywhere in the UK
PAPYRUS — Prevention of Young Suicide UK — HOPELineUK: 0800 068 41 41)

YoungMinds — A charity committed to improving the emotional wellbeing and mental health of children and young people — Parents Helpline: 0808 802 5544)
• You can also contact your GP, the police, the emergency line '999' if it is an emergency, or the NHS24 number: '111′. 
Welcome!
Welcome to Fully Human Psychotherapy. Fully Human is a psychotherapy practice owned and run by Avigail Abarbanel. Avigail has worked in private practice in Canberra (Australia) since 1999. She moved to the Scottish Highlands in January 2010 and started practising here in July 2010. Avigail is a BACP Accredited psychotherapist, and (UK Other Professional Body Accredited) Member of COSCA. She is on the BACP Register and on the COSCA Register. Avigail works with adult individuals, couples and families on a variety of life issues. She is a supervisor and she also runs groups and facilitates workshops for professionals and for the public. She does consulting work and can offer training to organisations in the private and public sectors.
Fully Human Psychotherapy & Counselling is welcoming to the LGBT community.
Information & Appointments
Avigail sees clients at her home counselling room near Croy on Mondays and Tuesdays and in Inverness on Thursdays. Please visit Avigail's page for exact times on those days, or see below. Avigail does not offer therapy by phone, email, Skype, or any other remote method, to clients she has not already worked with in person.
___________________________________________________________________________________________
Please refer to our individual pages for more information about us, our work, fees and how to book appointments.
BEFORE you contact us to make an appointment please read Important Note below about what we don't do and the conditions we do not work with. For ethical and legal reasons we can make no exceptions.
If you do send an enquiry by email, text or voice message, please state your age as we don't work with people under 18. We also need to know if you have ever had a psychiatric diagnosis and if so what it was, because there are conditions we don't work with (See below).
All contact with a therapist right from the initial enquiry is confidential (Be aware that there are ethical and legal limitations to confidentiality, even in private practice. These are listed in the Ethics page.)
Fees
Avigail: £60 — individual session, £65 — couple session, £75 — family therapy session, £75 — supervision. (Cash, cheque, card or BACS)
Sessions
Avigail's sessions are 90 minutes long.
Cancellation Policy
We ask for 24 hours notice for cancellations, or the full fee applies. This does not apply in the event of an emergency or illness.
Appointments
For enquiries and new referrals, please contact at the details below between Monday and Friday during office hours. Weekend or after-hours phone messages, texts or emails will be attended to during office hours on weekdays. 
To make an appointment contact:
            Avigail – M: 07913 295 029 or by email at avigail@fullyhuman.co.uk            
Times & Location — Avigail
Monday —10:00, 12:00, 14:00 and 16:00
Tuesday — 10:00, 12:00, 14:00, 16:00
Monday & Tuesday appointments are at my  home counselling room near Croy. Address: Kilmalieu Cottage, Croy IV2 5PW (0.5 mile before Croy if you come via the back road from Inverness. I am across the field from Cantraybridge College.) This is a quiet and private location.
Thursday — 10:00, 12:00, 14:00 and 16:00
Thursday appointments are in Inverness at Therapy 1st, 1st floor, 1 Ardross Street, Inverness IV3 5NN. (Please be aware that there is a waiting room, and you might see other people waiting for their appointments.)
IMPORTANT NOTE
This counselling service is strictly:
NOT a way to give the client all the answers.
NOT crisis intervention (See important notice for emergencies at the top of this page).
NOT for individuals who are currently abusing drugs or alcohol. In order to use our service, you must already be well into recovery, and have a comprehensive and well-established support network.
NOT for individuals with psychiatric conditions such as bi-polar disorder,  personality disorders, schizophrenia, or psychosis.
NOT a substitute for necessary medical attention or hospital care.
NOT a 'repair shop' for the mind.
About Facebook – Please note that because of professional boundaries we don't 'friend' clients on our personal Facebook pages. (To learn more about professional boundaries please look at the Ethics page on this site.) Clients and members of the general public are welcome to 'Like' and post questions or comments on the Fully Human Facebook page any time!